February 2013
My new novel The Last Runaway has been published in the USA and Italy, and I am now gearing up for the UK publication in March. My first reading will be in Keswick, in the Lake District, on March 7th. For other Events in the UK and USA over the coming months, see EVENTS.

The Last Runaway is about a lot of things: slavery, the Underground Railroad, Quakers, principles. And quilts. I took up quilting as part of my research, and last summer at a book festival I talked with Lynne Hatwell, aka the wonderful literary blogger Dove Grey Reader. If you haven't read her BLOG, have a look, it's a must for book lovers. Lynne is also a quilter, and we had fun showing our stuff. Here are a few photos: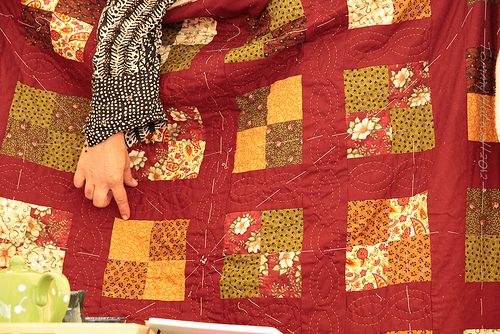 Publication Time
It's always a shock when one of my books is published. I have been tucked away researching and writing for years, with no one to read it but me. Now suddenly the lid is blown off and everyone gets a crack at it. I can no longer make any corrections or influence how readers may respond. The novel is like a child riding away from me, the training wheels removed from its bike. Will it stay upright or fall over? All I can do is stand by and watch.

For a distraction from that anxiety, let's look at some covers. Because face it, that is how we judge books at first. Here are the US, UK and Italian covers:
Isn't it surprising how different the tone of each cover can be? Hard to believe the words inside are the same!
My new novel out in 2013
I'm delighted to report that my new novel The Last Runaway will be published in the USA, Australia and Italy in January 2013, in the UK in March 2013, and in other countries later in 2013. The US cover is on the left and the UK version is on the right.
How I spent my summer (2012)
I have spent much of the summer editing a new novel (The Last Runaway, out January 2013 in the US, March 2013 in the UK, with other countries to follow). Mostly, though, I've been glued to the Olympics, which transformed my fellow Londoners into cheerful, positive, helpful people. It was glorious.
July 2011
Summer time and I'm off soon to Ohio to try and revitalize the novel I'm writing set there. Any Ohioans who see me in a diner with a stack of pancakes and the paper, tell me to get out and start researching! You may also find me lingering in quilt shops.